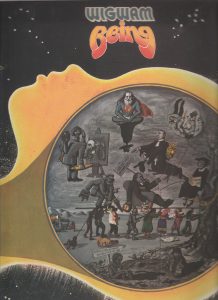 Det finske bandet Wigwam spilte inn Being i 1973. Det er vel omtrent så prog man kan komme, i nordisk prog i 1965-75-perioden. Being går tre ganger rundt det meste, både musikalsk og innholdsmessig. Er det vellykket? Tja, delvis, men det tar litt tid, litt lytting, før resepten «setter seg». Er det prog? Avgjort ja.
Noen kommentarer på nett: «Being" was WIGWAM's 5th album and represents one of the most profound and highly dramatized concept albums mixing religious and political themes in a very strange little album." Ja, very strange indeed, iallfall om man ikke forstår hva Wigwam prøver å uttrykke. «It's my understanding that the album caused a bit of tension in the band, with some members having a problem with the extremely politicised lyrics. It's not the words that irritate me, though, than the delivery."
Flere kommentarer her:  http://www.progarchives.com/album.asp?id=3435
Noen misliker vokalen – «particularly the vocals by Jukka Gustavson. 'Being' leaves me cold due to the unemotional content." Men er det ufølsomt? Jeg vil heller si, en original og så å si «sosiologisk» vokal. Akkurat som sosiologien i barnets hode, på forsiden. En type Brecht fremmedgjøring, nesten, i måten vokalen er dubbet på, den stiger og synker atonalt. Like det eller ikke – det er originalt. Tilmed for Wigwam, som senere gikk tilbake til en mer glatt stil, med Jim Pembroke som vokalist.
En førstepress Wigwam Being LP fra Love Records koster nå ca 150 euro, eller mer, på Discogs, i Near Mint utgave. Re-utgaven jeg har, fra Svart Records, koster 70-80 euro. Man kan få en god del ut av Wigwam ved å kjøpe Rumours on the rebound, en dobbel samle-LP, som kan fås til 20-30 euro.  Selv om det ikke er samme sak. Being, særlig, er verd et eget kjøp.
Kommentarer på Amazon: «Perhaps the most musically dark, complex and harmonically dense album Wigwam ever made(1973). As impressively challenging to the ear as any of the more serious works of Frank Zappa, Mahavishnu Orchestra or PFM, Yes, Gentle Giant etc. Not for the faint hearted.»
«Imagine a rock-pop group that has members that also like Soft Machine, Zappa and a bit of blues mixed with sophisticated jazz. Add some nice vocal harmonies, some a la Stevie Wonder(!), and weird lyrics (which are sang in a choppy kind-a-way!) and you've got a pretty original sound. I recommend you get "Fairy Port'" first. But then come to this which is great also!"
Choppy – ja, kanskje, men særlig, atonale toner.
Tekstene er kritiske – progge – og ikke vanskelig å forstå, iallfall ikke i en nordisk kontekst.  Finland levde tett innpå Sovjet, i den kalde krigen. Frykten var stor for atomkrig – jfr Wigwam's Nuclear nightclub LP, litt senere enn Being. Og The dark album.
Omslaget, bildet i barnets hode, er laget omtrent som en karikatur fra tidlig moderne tid – øvrigheten på toppen, vanlige folk i midten, og avvikere nederst. Figurene på toppen er de viktigste figurene i sangene, blant annet kommunisten, presten og småborgeren.  Kapitalisten holder et skilt med «US get into Vietnam Chile etc».
Under alle disse øvrighetspersonene ser vi en kø av «vanlige folk» som bærer byrdene under det hele.  Nederst ser vi to figurer under et skilt «Subcultural bayarea», en mager mann og en fyllik. Køen av vanlige folk går mot en samling bygninger i bakgrunnen, på høyre side, med røyk fra skorsteiner, med et lysende reklameskilt «Pariah». Det minner litt om Auschwitz. Røyken blander seg med grenene fra kunnskapens tre, der akademikeren sitter og er bundet på den ene foten.
Dette er et av de heftigste politisk prog-omslagene som er laget.  Er det «ekstremt politisk»? Nei, men det er fokusert på politikk. På toppen sitter en mann med skjegg og supermanndrakt med en P på trøya, og rød kappe. – Omslaget ble laget av Jukka Gustavson, (directions) og Jorma Auersalo (art work).
Presten (i Gustavsons Pride of the biosphere) forteller om voldtekt under krigen:
As I cast my mind back to the first years of war, to the best times
of my entire career as a chaplain, I am still filled with deep piety,
with profound gratitude and awe at the recollection of one remarkable,
rather remarcable, recurrent course of events that came to pass
and shed its light in my workaday life in those halcyon years.
Warfare is rough play, as we all know, and in the manly and mera-
less martial turmoil surely all of us, even the merest Negro, the
lowliest Japanese or Jew, are equals in the sight of the same
Gawd; indeed, I wish to emphasize this!-
Well, as I was saying, it is with intense emotion and profound
humility that I recall those months of May, days when the
first ripe cherries would be fresh off the bough; sitting; there
in the dull humdrum of the Officers' Mess we would naturally
be pleasantly diverted by questions such as- would we like some cherries!
However, it became virtually a point of tradition, yes,, hearing
that innocent query rather more lusciously worded: a couple
of "Gerries"? How about some Gerries! At this, and blushing
almost openly, the officers would proceed to rape the waitresses
in full view and afterwards shoot them on the spot.
And so, as the afflicted blood of these possessed women crimsoned
the drab floor out our mess, my turn would come to step forth
and perform my own assignment in this Extraordinary, this quite
extraordinary, colorful drama! – Those fallen souls laid to
their last rest before the scorching pains of flaming hellfire,
we would fold our hands upon the familiar words of my esteemed
colleague – words that so frequently during my career have
intrigued me and brought me succor – inscrutable are the ways
of the Lord..and how can we mortals be expected to mind and
master every turn, a-men.
Det er ikke presten som snakker her. Det er en politisk karikatur av presten, akkurat som på omslaget. Figuren blir beskrevet omtrent som den gale generalen i Dr. Strangelove. Det samme gjelder kommunisten, som er avbildet på omslaget mens han skjærer almuen ned med en sigd. Kommunisten er også en parodi, eller Brechtiansk fremstilt, fremmedgjørende. Tatt ennå litt lenger ut, a la Zappa. De som blir "offended" av dette har ikke skjønt hva det handler om – eller, låta treffer litt for godt, en innertier.
InspiRed Machine, by Jukka Gustavson
Working men in all countries let us unite
in vengeance for the time has come to
annihilate the bourgeoisie and suck the
rest up now is the time when Commu-
nism will rule the world and red shall be
the one color suffered to wave let us
take up arms let us join forces com-
rades let us march let us conquer for
behind us comrades you have the most
powerful and advanced nation in the
world also the world's most modern
least checked weapons and the Red
Army comrades towards peace and hap-
piness on Earth towards the most
ethical and natural state and system
in the world, comrades!!!
Det er bare i starten, i beskrivelsen av proletaren, første sang på plata, at ikke parodien ligger nær ved. Her er det også enkle linjer, men det er ikke en karikatur.
Proletarian, by Jukka Gustavson
Worn through by now, all spent..my pain
property, trickery; Political treasury, politics,
lush lies
Bitterness, repeating myself, impotence;
and the pink backs, suction-directed..us being breathed
into stupor; sucking
Scabbing. Scrathing..I'm punished –
The Mob ever drunker; comrades,
there always
And the leaders, the bosses, responsibility flags, salaries soar –
graftsmanship grows, competence decays
Altså – vanlige folk sliter. Vanlige folk får byrdene, av kranglingen mellom de store. Systemet utbytter vanlige folk. De rike skor seg. Proletaren prøver å advare, men mobben er fordrukken som alltid.  Spillet blir hovedsaken. Kompetansen går tapt.
Hodet på omslaget er del av et barn, et foster – med mange muligheter, andre verdener, tegnet inn på baksiden. Selv om forholdene er nokså dystre i hodet, er det mange kroppslige og sanselige muligheter.  Her er baksiden.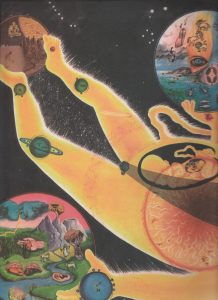 Her er helheten – omslaget brettet ut: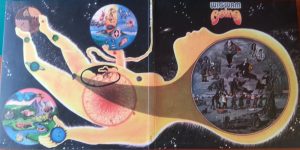 Selv om mye er dystert på Being, er musikken lys, delvis håpefull, ikke mørk. Det er fortsatt et glimt av hippielogikk, kjærlighet kan endre verden. Det følsomme barnet.
Min kritikk er ikke at skiva er dårlig, men heller at den er litt for hektisk, over-flink, til tider, og prøver litt for mye på en gang. Men vel, dermed ble den også en klassiker.