According to the foreword by Donald Ault in the new Fantagraphics Books series "Donald Duck – Lost in the Andes – by Carl Barks" (2011) , Barks – not Disney – was the one who invented most of the Donald Duck scenery and characters, including Uncle Scrooge. "Barks was perhaps the most widely read but least-known author in the world".
I was six or seven years old when I started to recognize Barks' stories, in the late 1950s. I would make a corn-flake bowl when I got home from school, reading Donald Duck when it arrived each week. A new Barks series was a special treat. I knew it only through a sense of the best drawings. Here we are again – top quality.
This is still my impression when, sixty years old, I reread his "Lost in the Andes" story. This layman story (Barks was an autodidact) is just great, regarding adventure, capitalism, US fingers on south America, and general attitude – a true artistic wonder. The foreword helped me me put words to several things I felt as a boy also, not least, the film-like technique, the great attention to timing, in his drawings.
Here is an example of Barks making fun of power in modern society (click on image to get a full version).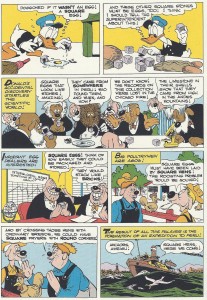 "Important egg dealers are interested"…indeed.
Although the foreword describes how Barks died without much recognition, is is a bit curious, by 2012, that it does not more clearly mention his critical view of capitalism, which was a red thread in his best work.
The book as a whole is not up to the standard of "Lost in the Andes", the long adventure story where Barks had free hands, it also contains shorter and less interesting stories – illustrating the editorial constraints laid on this remarkable artist.