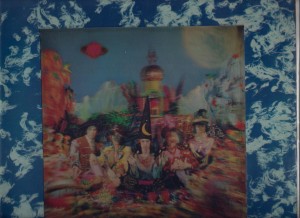 "Why don't we sing this song all together
Open our minds let the pictures come
And if we close all our eyes together
Then we will see where we all come from"
There is not much misogynism that I can hear, on this LP, with the demanding title: Their satanic majesties request.  This album was released later in 67, after the three albums described in my first blog post on this topic.
There is no mistake – they really tried to re-adjust their course. I have the original UK LP with the 3D cover. Mick in the center is visible from all angles while Brian is mostly invisible. Brian contributes much to the sound however, a bit like Eno, later.
Richie Unterberger, at Allmusic, writes:  "Without a doubt, no Rolling Stones album — and, indeed, very few rock albums from any era — split critical opinion as much as [this ..] psychedelic outing. Many dismiss the record as sub-Sgt Pepper posturing; others confess, if only in private, to a fascination with the album's inventive arrangements, which incorporated some African rhythms, Mellotrons, and full orchestration. What's clear is that never before or after did the Stones take so many chances in the studio. (Some critics and fans feel that the record has been unfairly undervalued, partly because purists expect the Stones to constantly champion a blues 'n' raunch worldview.) "
The album was not seen as successful. The opinion of the day, in the music press, was that the Stones should get back to their roots. They had been misogynist before – but in my interpretation, it was mainly after this "slap in the face" reaction to Their satanic… – and the death of one of their members – that they developed this into a more general "sneering attitude".  Thereby the band changed their direction (Sympathy for the devil), contributing to 1970s misogynism in rock music, beyond attitude, as staple fare.
After some years they tried to stop this, in their own records (e. g. You can't allways get what you want, A fool to cry, Waiting for a friend, and others), yet it was not much heeded, since at the time, the Stones were gradually falling out of fashion. and had become marginal, to pop/rock in general.